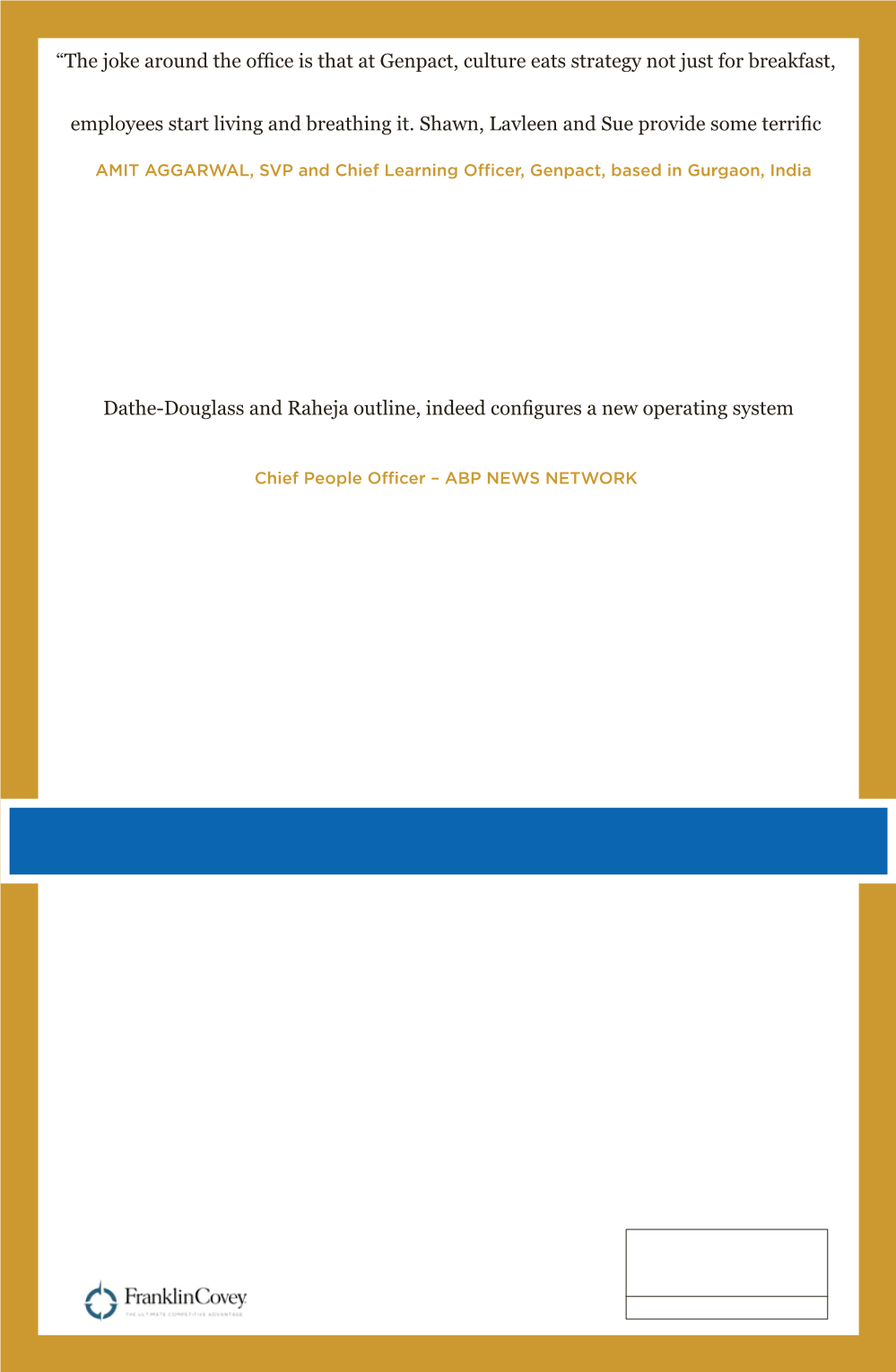 AFTERWORD BY LAVLEEN RAHEJA
People are what sustain – or ruin – your brand. If your people are not excited about
the company, are indifferent, or even alienated from it, your competitive advantage will
The Ultimate Competitive Advantage
, FranklinCovey experts Shawn D. Moon, Sue
Dathe-Douglass and Lavleen Raheja lay out the steps leaders can take to tap into their
companies' most valuable and unique resource: people.
When you promote a company of proactive and engaged employees who create a
winning culture, sustain it, and leverage it, no matter what comes your way, your business
rises above the rest. From the company that brought you
The 7 Habits of Highly Effective
People
The Ultimate Competitive Advantage
offers six highly effective practices that will
propel your company to success by unleashing the potential of your people.
"A must read for leaders who recognize culture and people are complementary and
needed to sustain your company's competitive advantage. Shawn D. Moon,
Sue Dathe-Douglass and Lavleen Raheja outline the process/operating system
needed to sustain engagement and success."
MICHAEL FUNG, Former CFO, Walmart U.S.
"A must-read for young leaders, especially the young guns of Startups and New
Age Firms – if you have been wanting to know what maintains and sustains
People, Motivation and Culture in your organization, "
The Ultimate Competitive
Advantage
" will come across as the new gospel. The six practices that Moon,
that makes organizations fertile."
SATYAKKI BHATTACHARJEE, Leadership & Organization Development Guru,
but also for lunch and dinner! The task of culture-building starts with leaders – it is one
of the most important roles of a leader – and gets ingrained in an organization when
insights for leaders through this book."
"You already have a culture, but is it helping or hindering your success? In
The Ultimate
Competitive Advantage
, Shawn D. Moon, Sue Dathe-Douglass and Lavleen Raheja
provide the road map for sustaining superior performance by engaging
your greatest asset – your people."
KAY STEPP, Former President, Portland General Electric
Every company pays lip service to this platitude
but how many companies really embrace it?
"A powerful framework for creating a culture of great performance."
JOEL PETERSON, Chairman, JetBlue
The Ultimate Competitive Advantage
startles you with thought provoking effective
ideas and principles that can easily be implemented in the workplace. A must read for all
professionals and leaders who are looking for answers in today's
VUCA world – transformational ideas one must know and practice!"
K.S. BAKSHI, Executive Vice President – Human Resources, The Oberoi Group