Project Management Essentials for the Unofficial Project Manager
®

How much do failed projects cost your organization?
When a project is poorly navigated and falls short of budget and timeline goals, it can cost you more than just money; it can cause irreparable damage to reputation, confidence, and client trust. The answer isn't just dedicated project managers, but equipping your entire team at every level with the skills and tools needed to manage and complete any project with confidence.
For guaranteed project management success, we've combined the robust processes of the Project Management Institute (PMI) with FranklinCovey's 30+ years of experience and timeless principles to enable every employee at every level to complete every type of project with consistent success.
Course Details
People + Process = Success
Successful project management isn't just about strategy and managing logistics. It's about getting people to work together and volunteer their best efforts, especially when they don't work directly for you. Real project success combines proven project management skills with proven people management skills to achieve consistent results.
Participants of this course discover a simple framework for strategy, as well as understanding how to implement the Four Foundational Behaviors that inspire team members to execute with excellence.
Project Management Framework
The Project Management Framework guides you through five distinct elements in the life of any project. Coupled with the foundational behaviors taught in the course, this framework can help you deliver highly successful projects again and again.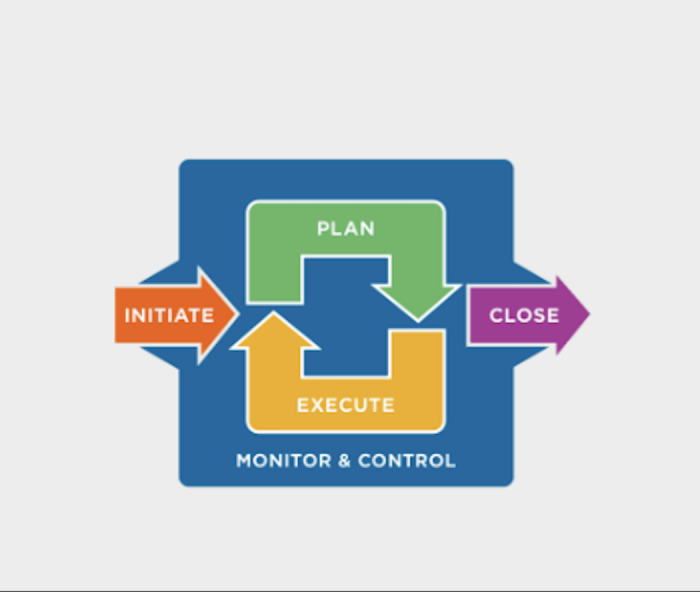 Initiate, Plan, Execute, Monitor and Control, and Close
Initiate projects by identifying a project's stakeholders, clarifying expectations and establishing clear and measurable project outcomes. The result: A project that has been realistically-scoped with precision.
Plan projects by identifying and managing project risks to create a realistic and well-defined project schedule. The result: A comprehensive roadmap for project success.
Execute projects by developing a cadence of accountability and providing honest, motivating feedback through regular team accountability sessions.  The result: Team members stay engaged and meet expectations through visibility of commitments and actions around the project plan.
Monitor and control the entire process through regular status reports to stakeholders and managing unexpected scope change.  The result: Projects are completed on-time and within budget.
Close a project to reinforce and celebrate both the process and the result of working together on a successful project.  The result: Team members are energized about participating in future projects.
The Outcome
Less stress, more teamwork, and consistent results.
When team members are personally invested in seeing projects completed, energized about working together as a team, and equally qualified to take charge of any project, you'll experience a consistent pattern of project success.
Free Guide
How to Manage Your Time: 7 Tips for Doing What Matters Most
Hard-working professionals spend too much time putting out fires and not enough time pursuing their long-term goals.
Register for an Event
Complete your projects on time, on budget, and on the mark:
Learn how Project Management Essentials can equip your people with the principles and skills for consistent project success.
How to Experience FranklinCovey Content
This course is included in the FranklinCovey All Access Pass®. This pass provides your organization unlimited access to all of our content, whenever and wherever you need it.

Live-Online
Dynamic education and development, available online from any location.
In-Person
Expert education and development delivered face-to-face.
On Demand
Content available to your people anywhere, any time.